The Flicking Fingers - online!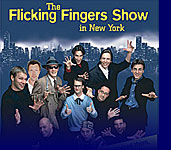 + + NEWSFLASH + + The Fingers will be on
a USA-tour with performances, lectures and workshops in Buffalo (FFFFs convention),

Los Angeles May 1.-7th and

New York May 13/14th including a

public show, May 13th 8:30pm!
The Flicking Fingers ('Die Fertigen Finger') is a creative collaboration
of ten of Germany's best magicians.
About ten years ago these magicians decided to take on a team-
project which has garnered critical acclaim from fellow-magicians
and audiences worldwide.
We invite you to explore the following pages and get to know the individual fingers and their achievements as a team of performers,
authors and lecturers - enjoy the ride!
The Flicking Fingers